Cedar Creek Lake Records
New Black Crappie Record 2013

(Lake & Catch and Release)
"Blair the Big Black Crappie" caught on March 1, 2013 while on guided fishing trip with www.BigCrappie.com! Blair was taken to Texas Fresh Water Fisheries for Official weight and measurements. Blair is now happily swimming around in her new tank, on display for all to see at the Texas Freshwater Fisheries in Athens.
Blair was 16" long, 3.1 lb, 14 1/4 girth!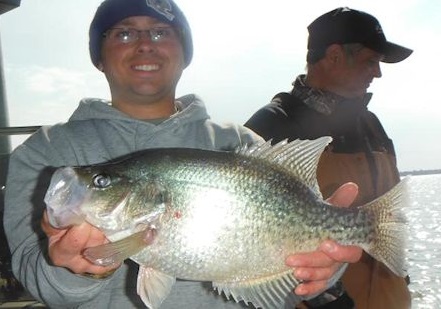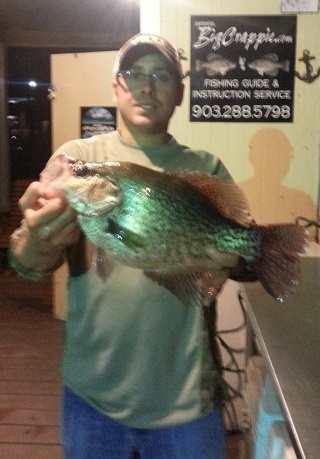 Per Texas Parks and Wildlife
New Flathead Catfish 2012

(Lake & Catch and Release)
This HUGE cat was caught on November 29, 2012 while on guided fishing trip.
Weight was 59.14lb, length 47"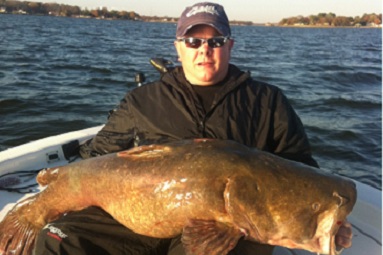 NEW JR ANGLER STATE RECORD & WATER BODY RECORD - Caught while fishing with guide Chuck Rollins on Cedar Creek Lake on a calm May morning.
Hybrid Striper Jr. Angler
11-25-08
Emily Campbell of Plano caught this 25.25 inch long Hybrid Striper that weighed 7.66lbs. The fish was caught on 11-25-08 using 6lb line and a crappie jig while crappie fishing
Below is a picture of Guide Chuck Rollins and Emily with her record fish!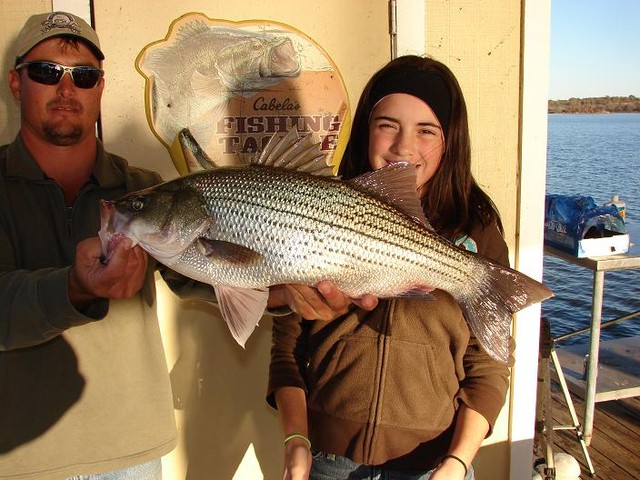 Record Hybrid Striper Jr. Angler
Five year old Michael Stroud from Van, Tx caught this 6.49lb Hybrid Striper while fishing with www.BigCrappie.com Guide Service. The Hybrid Striper is an official new Jr Angler Lake Record. It was a whopping 24.25 inches long and weighed in at 6.49 lbs.
It was caught on a 3/4 ounce spoon in 20 ft of water on 8-27-08 Michael hooked and reeled in the fish on an Abu Garcia spinning reel & an Ugly Stick rod spooled with 15lb test line. The fish fought 5 year old Michael about 5 minutes being landed. This picture is courtesy of www.BigCrappie.com Guide Service. To learn more about catching big fish give them a call at 903-288-5798.
Below is a picture of Michael Stroud holding up the fish.
Behind him is guide Chuck Rollins of BigCrappie.com Guide Service.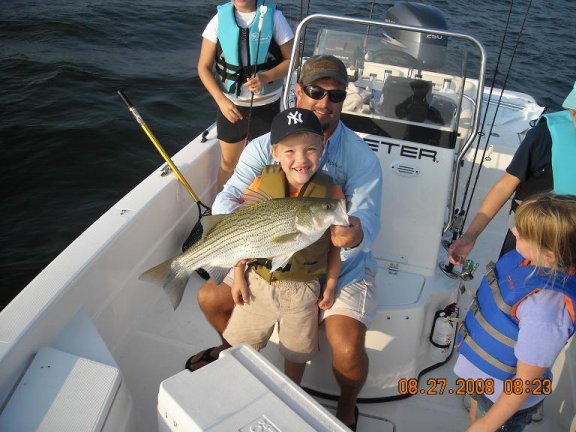 Click here
to view the TP&WD web site listing the new record.